'Lucky to be here with people I like'
Calendar
« JUL « AUG
September 2023
OCT » NOV »
Sun
Mon
Tue
Wed
Thu
Fri
Sat

1




2




3




4




5




6




7




8




9




10




11




12




13




14




15




16




17




18




19




20




21




22




23




24




25




26




27




28




29




30



The Heart of Saturday Night – the music of TOM WAITS
Come Schemers, Dancers, Orphans, and Brawlers!
 NJ Troubadour, Pat Guadagno, and some very special guests celebrate the Head-Scratching, Mind-Bending, music of Rock & Roll Hall of Famer Tom Waits. Shady Street Showman Ryan Gregg, Soul-Blues powerhouse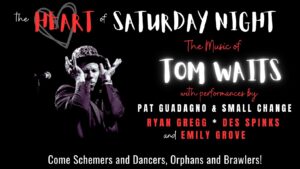 Spinks, and Alternative Folk Award winner Emily Grove join Guadagno and his band Small Change to deliver the Blood and Whiskey-Stained music of one of the most deviant and provocative artists of our time.
In a career spanning 6 decades, Grammy Award winner Tom Waits recorded over 30 groundbreaking albums, filled with theatrical tales of bungled romance, late-night diners, and early-morning cold fronts. Pat Guadagno will harvest some of the musical gems from this prolific catalog, for a unique, evening, as the musical brilliance of Tom Waits 'cuts through the night like a Cleveland-bound Greyhound' straight to The Heart of Saturday Night.
Event Location
The Vogel
99 Monmouth St
Red Bank, New Jersey, 07701