'Lucky to be here with people I like'
Calendar
« MAR « APR
May 2023
JUN » JUL »
Sun
Mon
Tue
Wed
Thu
Fri
Sat

1




2




3




4




5




6




7




8




9




10




11




12




13




14




15




16




17




18




19




20




21




22




23




24




25




26




27




28




29




30




31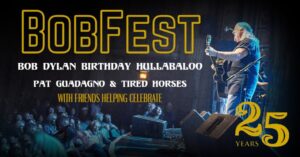 Veteran NJ Troubadour Pat Guadagno, and his band of Tired Horses " a curious congregation of extremely talented musicians, each bringing their own style of magic to the stage",  celebrate the Rock & Roll Poet Laureate's birthday, this year with some very special guests.
Renowned roots-rock trailblazer Steve Forbert, Blues Brother Rob Paparozzi , and Burlap to Cashmere's Steve Delopoulos will be on hand to commemorate the 25-year milestone, As Pat Guadagno and Tired Horses '…Shake your Windows and rattle your Walls', delivering the music of Bob Dylan as only they can.
The Celebration kicks off with the Heaven's Door Pre-Show Cocktail Party, featuring, Bob Dylan's Hand Crafted Whiskey, on the terrace of the New Count Basie Center for the Arts.
for the Arts.
Event Location
Count Basie Theatre
99 Monmouth St
Red Bank, NJ, 07701